Post by -- Heretic on Jul 23, 2015 5:15:16 GMT
-- H E R E T I C

"Survival isn't a right. It's a privilege; it's

earned

.

And if you deserved to live, you'd be strong enough to stop me-


and smart enough never to trust anyone

."

Name: Heretic

("

Hera-tic

"-

noun

; Someone believing in or practicing religious heresy;

someone who believes or teaches something that goes against accepted or official beliefs)

Species: Kelpie

Age: 221 years

Gender: Male

Height: 6.3ft tall at shoulder (18 hands high)

Voice: Miles Luna (

Felix

from RvB) (Spoilers.

Less spoilery.

)

Current Status: Keeping tabs on Monsoon and Eclipse.

//Currently taking a break.

Theme: Currently

I Can't Decide

by Scissor Sisters (Linked

clean

version so it remains appropriate!)

(Alternatively,

This Ain't A Scene

by Fallout Boy fits his behavior as a pegasus better...linked clean version, again)




-- Kelpies as a SpeciesKelpies are large, carnivorous water horses with finned fetlocks, waterlogged manes/tails filled with various water weeds, and sharp teeth made for flesh tearing, although appearances can often vary. They are malevolent water spirits said to shapeshift into various forms, forms which are used mainly for disguise and as a way to lure potential targets. Each kelpie usually only has one extra form. If their prey touches their skin, the smooth surface will rapidly excrete a dark, sticky substance akin to tar that is nearly impossible to break free of. Most creatures find themselves gnawing their arms or legs off in a desperate attempt to free themselves.

They prey on any creature foolish enough to approach the lake, river or pond in which they reign over. Once they sense a creature nearing the water, they'll stalk over and try to drag their target to the bottom of the lake or river, attempting to kill via drowning.

They are said to have the strength and endurance of ten horses, and a swiftness and agility unmatched by many things.


(Please note this is not an official description nor one that other kelpies must go by; this is just my interpretation for

my

kelpie! This is based upon the popular lore of the species but is not the only way to go about it.)

-- Appearance

Kelpie Form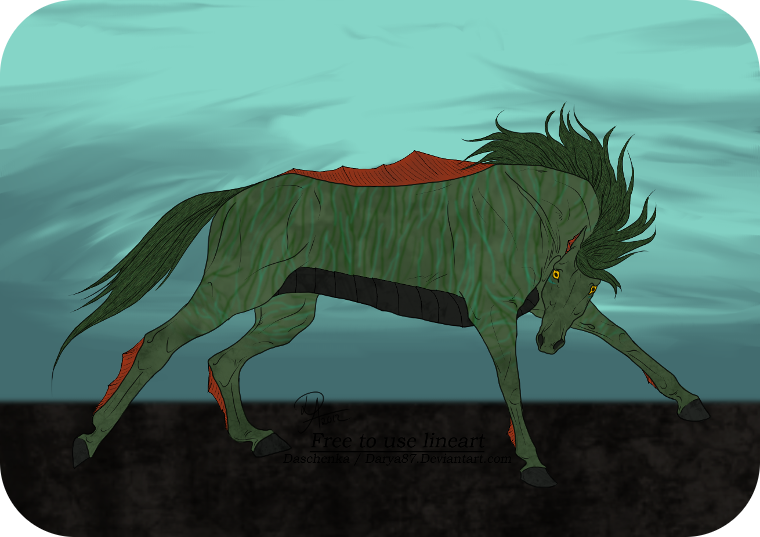 Heretic's kelpie form has a dull green coat, with a scaled underbelly of a darker shade. His mane and tail are thick and dark green, and usually filled with various types of water weeds. His skin is a brindled dull green streaked with a darker green and a light teal, and his scaled underbelly is a grey-green. He has a crescent moon shaped marking below each eye. He has fetlocks and semi-finned ears, as well as a fin down his back, all of which are dark orange.
Pegasus Form

In order to appear innocent and inconspicuous, Heretic assumes the form of a large, horned palomino pegasus.
His mane and tail are a creamy white, and his fur is a golden cream color. His legs are heavily feathered, akin to a Clydesdale's feathering. He has white sock markings reaching just below his knees, coming to a point on the back of his legs. One long, white, lightning-shaped blaze stretches from underneath his forelock and down to his nose. His horn is the same color as his mane, and his eyes are light blue.

-- Personality

Despite being a ruthless predator, Heretic can be surprisingly charming and appears to be well spoken, although mischievous. This is due to his deceitful and manipulative nature- much like the deception his species is known for, he uses his social skills and acting abilities to make false friendships and get to know potential targets. He might even attempt to flirt with the ladies a little bit, but usually this is just in the form of many compliments spoken with a gentle tone.

He is extremely arrogant and cocky, often talking himself up when it benefits his plans, and having quite a bit of confidence in his abilities. He tends to enjoy dramatics, though mainly in a sarcastic manner, and will often crack jokes at the expense of others. He shows little remorse for betraying or killing other creatures to get what he wants, which usually involves eating them.

Causing grief to others, whether good or bad, is practically a hobby of his, although he often only focuses this sort of effort on one particular creature and their social circle at a time.

Once he has what he wants however, he does have...somewhat of a heart in him. He's not heartless, simply greedy and lives as his particular species must. It is in his nature and he believes there is nothing wrong with what he does, but he is able to genuinely treat others with respect when he has good reason to do so.

He also tends to claim things as his, and once he's done so, he will fight anyone who says otherwise. Any lake, river or pond he inhabits at any moment will be considered his territory and is not to be intruded upon, especially not by any other kelpie, even though he has no problem vacating a particular place and going somewhere else the very next day.

-- Powers

Being a kelpie, Heretic has the ability to shift between two forms at will. Visibly, this transformation will appear to make his skin or fur 'melt' away and reveal either his pegasus form or his kelpie form, with any appendages unique to either form (wings, fins, etc.) seeming to grow in a matter of seconds. A full transformation only takes about 15 seconds in total and does not take very much energy out of him.

Touching his skin in either form may cause a black, sticky tar-like substance to rapidly secrete from the area touched, "gluing" his attacker to him. He can control this response, but it is highly dependent on the situation.

Like most kelpies, he has the strength & endurance of ten horses(and your mileage may vary!), can run at extremely high speeds and moves around very quickly for his size. He is an excellent swimmer, and is able to breathe underwater and on land, while also being capable of clearly understanding noises and speech despite the distortion from being underwater; additionally, Heretic is highly sensitive to movement in whatever body of water he inhabits.

In his pegasus form, he controls all manners of electricity, and has developed many ways of using this to his advantage.

-- Relations

He currently does not have anyone he considers a friend.
He is familiar with with Eclipse, Maggie, Monsoon, Evonai, and Tracks.
He is uncertain of his standings with Zinix or Azaria.
He is not a very big fan of Ordealis...
Everyone is a target- Glaciara, Tracks and Monsoon are currently spared, however.

He has no interest in romance, nor finding a mate and will never be found looking for such.
He has no offspring.