Post by -- Heretic on Jul 2, 2015 22:30:15 GMT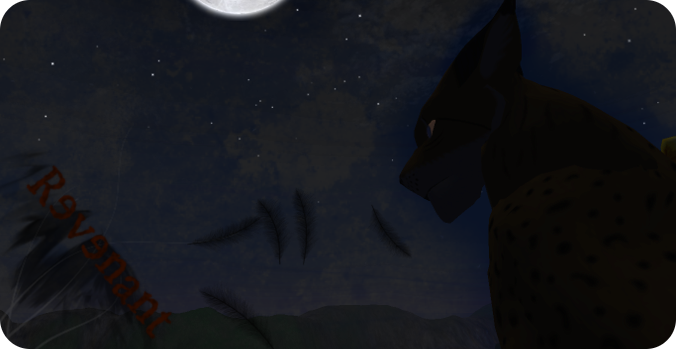 "For me, death is but a temporary state of being; and you?


You are no more than a pest that must be squashed."



< Revenant >

Classification Of:
Undead Lynx (Eurasian)

Age Of:
2 live years | 10 cursed

Gender Of:
Male
Height Of:
3.6ft at shoulder (Above average)
Voice Of:
Gray G. Haddock (Locus from Red Vs. Blue)

Theme Of:
Broken Inside by Broken Iris and Springtrap
by Madame Macabre

Sides With:
Himself.


< Description >

If it wasn't for the multitude of injuries Revenant possesses, and his ever-present scent of dried blood and rot, one might mistake him for an average, harmless lynx. But instead, even just one short glance at him can have creatures running for the hills.
His body is gaunt from malnutrition. His somewhat thick, rusty orange fur is matted and greasy in places. Black spots are scattered all across his body, fading into his creamy white underbelly. A gaping hole is visible on his underside, through which his ribs and some organs can be seen- it is a wonder his organs do not simply fall out with every step he takes.
Matted fur caked with dried blood surrounds a wound on his left foreleg, on which a shackle digs into his skin. If one was to remove the shackle they would be able to see a deep hole around his leg bone- a wound that Revenant inflicted on himself. His back left leg has been stripped of all skin up to the knee, with only a little bit of ligament and muscle holding it together. The opposite back leg is in somewhat better condition, with the bone only exposed up to his ankles.
A gaping black hole takes the place of his right eye, and his left eye is a dull orange, the pupil dilated and foggy. And when he flashes one of his cocky grins, one can see his yellowed, blood-stained teeth, and the cracked lower canine caused by hours of chewing on his shackle's chain.

< Personality >

If Revenant's appearance doesn't repel you, then his personality surely will!
Cocky and deceitful one moment, murderous and depressive the next. Revenant is what one might describe as "broken." He is unpredictable, as he can attack even those he considers tolerable, often for no good reason. He makes no friends- merely allies, who can be ditched at any point and for any reason.

He is known to be antisocial and rather reclusive, sticking to the shadows, hiding in caves and generally just trying to avoid other creatures. When he is approached by other creatures, he rarely makes the first attempt at introductions, but once it is determined that the stranger doesn't have anything against undead creatures, he will usually talk himself up and put on quite the arrogant show. Should the stranger show disgust or prejudice against him, however.... Well, retreat is advised.

At his core, however, Revenant is indeed very broken. He isn't entirely insane however he can lapse into bouts of such, usually for no clear reason. These events can either be filled with sudden outbursts of negative emotion, or focused purely on lashing out at those around him.

He is not adverse to killing other creatures, regardless of their relationship with him. He would rather be the one to betray them than to be the one betrayed. In his mind, everyone will abandon him at some point, so why make any meaningful friendships?
Finally, although loyalty is only a word to him, he has in the past been "hired" to "deal with" specific creatures, giving him a sort of mercenary quality, if the price is right. His deceitful and ruthless nature lends itself to this line of work.

< Abilities >

Revenant does not hold many abilities, being that he is essentially just a zombie, but fully sentient and intelligent.
He can, however, drain the life force of other creatures as long as he has his teeth or claws in them. The bigger or stronger the creature, the more he gains from it.
There is no visible magic, though the victim might feel a strange pins-and-needles sensation throughout their body. It takes some concentration and his reflexes will be impaired, leaving him vulnerable to attack. If his teeth or claws are removed from the target, the drain will immediately stop.

This life force cannot be returned in most cases, and would not be anyway- Revenant uses it to keep himself alive, supplementing his soul with the energy. Because this is essentially how he keeps himself thriving instead of decaying into a mindless drone, he does not mention it to anyone, and usually just settles for taking the life force of prey animals. His method for killing particular creatures is usually much more brutal and instantaneous.

Additionally, even if the victim escapes from his clutches, there is a high chance they will contract a very serious infection just due to the countless amount of bacteria (rot, dried blood, dirt, etc.) in his saliva. This infection could potentially kill them, or at least cause them to be very sick for a while without the intervention of a medic. He cannot turn other creatures undead, however.

< Relations >

Friends are only strangers who have yet to betray you.
I am familiar with Verrous.
I have no opinion of Shard or Eclipse.
Until proven otherwise, the world is my enemy.